Epson to be invited Electroson Studio on March 3, 2022 at the first French presentation of the successors of theEB-L20000U, the models 20,000 lumens EB-PU2220B and EB-PU2120W, as well as EB-PU2213B and EB-PU2113W (13,000 lumens) and EB-PU2216B and EB-PU2116W (16,000 lumens).
Available from May 2022, them EB-PU2220B and EB-PU2120W are the smallest and lightest 20,000 lm 3LCD in the world, 70% more compact and 50% lighter than their predecessor EB-L20000U.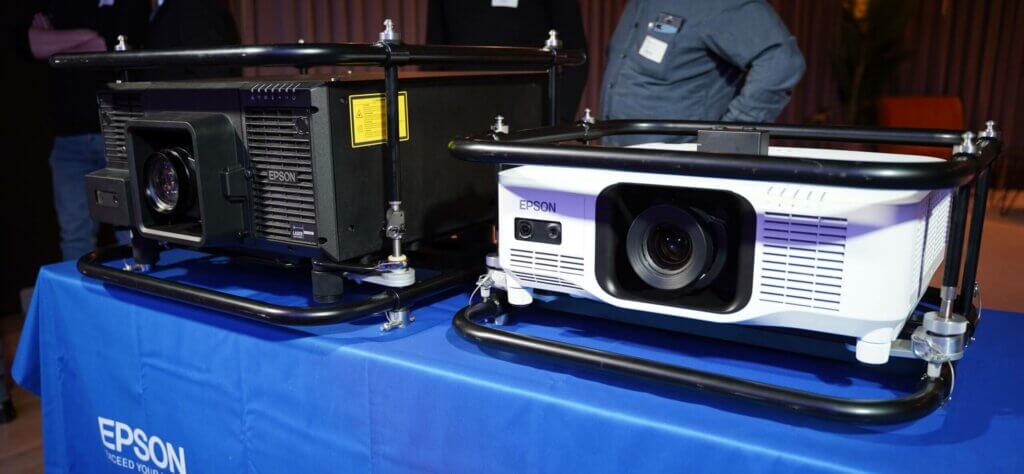 Available in 6 models, in black them Epson EB-PU2213B (13,000 lumens), Epson EB-PU2216B (16,000 lumens) and Epson EB-PU2220B (20,000 lumens) and in White them Epson EB-PU2113W (13,000 lumens), Epson EB-PU2116W (16,000 lumens), and Epson EB-PU2120W (20,000 lumens).
One more time, Epson incorporates flexibility of use and compatibility with interchangeable optics already dedicated to previous series.
The models are equipped with the technology NFC and apps android and iOS Epson Projector Configuration Tool (EPCT) that facilitate the configuration spotlights and multi-projector installations. Projectors also include an optical engine hermetic for increased resistance to dust and a chassis without filter to minimize maintenance.
As on all their latest models, they offer a 4K enhancement and a resolution WUXGA (1920x1200). The black models also offer a mechanical shutter and SDI inputs/outputs. Technology 3LCD ensures color-balanced images without compromising brightness. The block laser with an advertised lifespan of 20,000 hours is more eco-responsible.
Find the details and the technical sheet of the video projectors in our shop:
Would you like more information on these models, a more in-depth study of your needs or a demonstration? Do not hesitate to contact us by the contact form at the bottom of the page or by telephone.