We carried out a lighting project for a site in Heart of the city of Cholet by projections of gobos within the framework of the demolition of an urban wasteland in the city center.
The idea was to create a friendly space intended for Cholet residents, for mixed use, by offering from nightfall wall projections on several facades, as well as floor.
The patterns, will be adapted to the season, were made in the continuity of the poster " this summer in Cholet", presenting a woman in a summer dress swinging on a swing, surrounded by leaves of all colors on the walls and on the ground, accompanied by butterflies.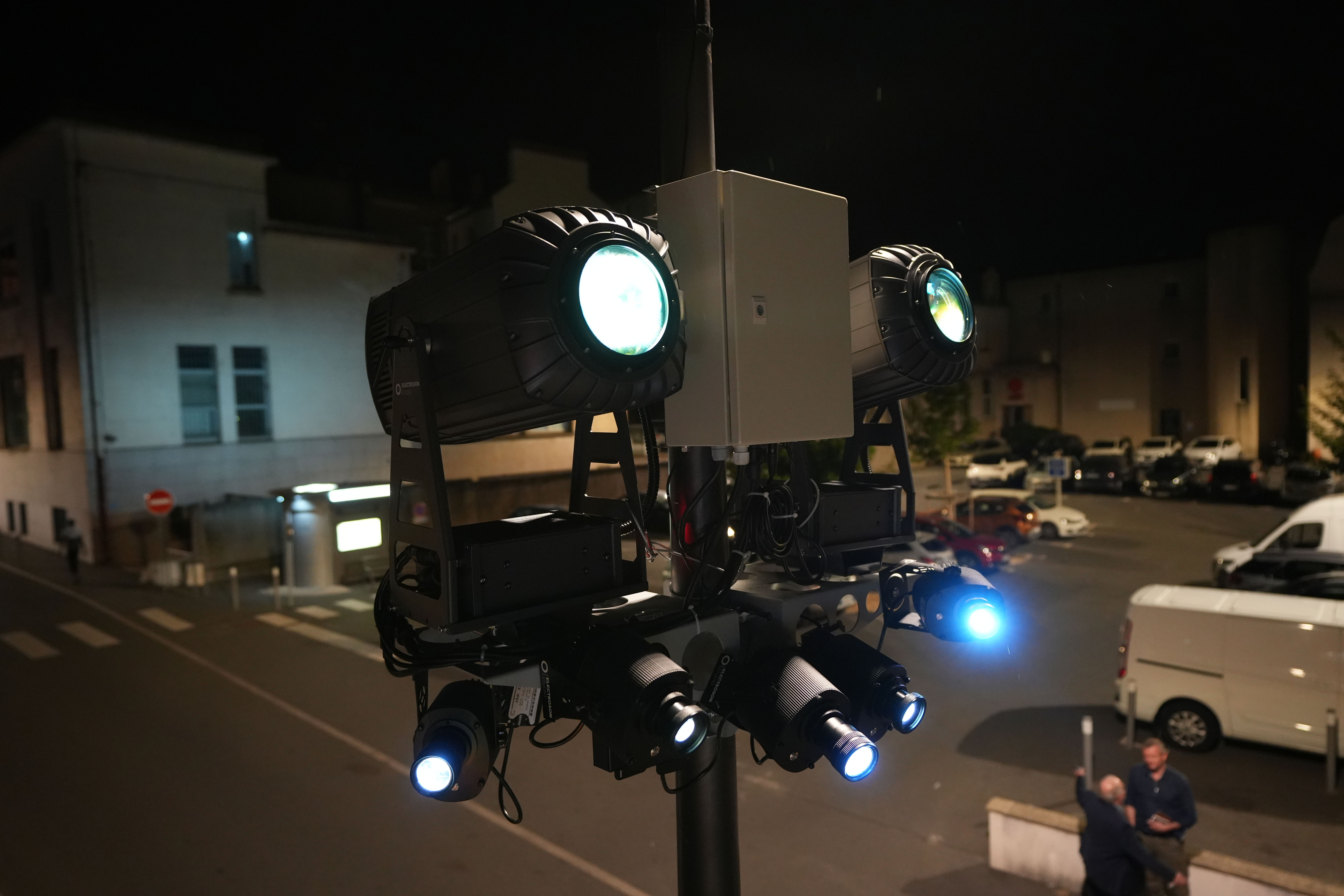 The 2 gobo projectors Electroson MOD-600 are used for the large wall: one projects the background pattern, and the other projects the swing with specific programming to reproduce the swinging motion thanks to the'spinning effect gobo.
The 5 gobo projectors Electroson MOD-100 are used on the floor and on the walls devices to project leaves and butterflies of all colors and sizes with a spinning effect. We propose 4 interchangeable lenses adaptable to this projector, which allow you to select the good projection angle for'adapt the size of the desired image to the available distance (from the tightest angle to the widest angle: angle of 11.4° with 0.2 optics, angle of 18.7° with 0.33 optics, angle of 36° with 0.65 optics, angle of 53° with 1.0 optics when the recoil is equal to the diameter of the projected image).
The facility is controlled by one waterproof cabinet composed of a DINA DR2 Lite box, which contains the programming of the scene (control of the movement of spin swing and sequencepower management projectors) as well as the time programming switching on and off the installation.
Through an antenna Wireless, the services of the Town Hall are autonomous for change time slots programming in the DINA DR2 Lite box via WiFi with a computer, at the bottom of the post.
Material :
– 2 gobo projectors Electroson MOD-600
– 5 gobo projectors Electroson MOD-100
– 1 Waterproof control cabinet with DMX DINA DR2 Lite control box and WiFi antenna