As part of the Christmas in the Alps 2020, Electroson Studio was selected by the City ofAnnecy to make a path of light from November 27, 2020 to January 3, 2021 through 5 places emblems of the city:
- in video projection : the Porte du Faubourg Sainte Claire, the Palais de l'Isle and the Church of Notre Dame de Liesse;
- in gobo projection : the Tower of the Castle, the Saint Maurice Church.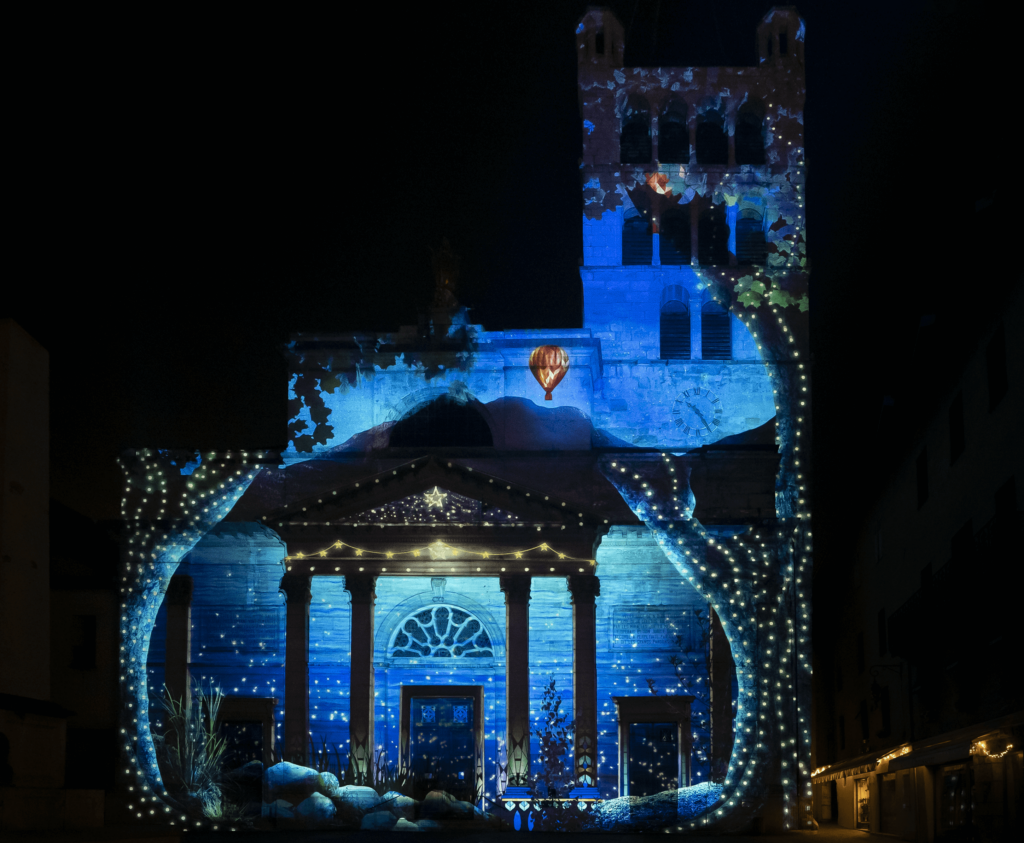 Dreams of a winter night
At the heart of the light trail and the city center, Songes d'une nuit d'hiver is a magical parenthesis that immerses the viewer for 5 minutes in the colorful and immersive world of the very talented visual design artist Camille Gross , on the monumental facade of the Church of Notre-Dame de Liesse.
The base of the church is covered by 4 Epson EB-L1715S video projectors with ELPLM15 optics controlled by a Modulo Pi STD-4 media server. Its bell tower is covered by 1 Epson EB-L1715S video projector with ELPLM15 optics controlled by a Modulo Pi STD-1 .
The facade being relatively flat, the deformation was first adjusted on the video projectors with the Epson Projector Professional Tool software, then more finely for each output on the Modulo Pi media servers.
Summary:
"Orion, the emblematic constellation of the winter sky, takes shape on the facade until it slowly evaporates to invite the viewer to embark on a winter dream.
We go through different dreamlike settings, whose universe reminds us of winter and the warmth of Christmas through stained glass windows that look like crystals that are erected, golden patterns of Christmas balls that are embroidered, candles in soft light and familiar that sparkle, or a forest with snow-covered trees and firs that seems to be inhabited by a magical breath.
All punctuated by music that is aerial, scintillating and captivating. »
Material :
– 2 waterproof, ventilated and heated projection towers designed by Electroson Studio
– 5 Epson EB-L1715S video projectors with ELPLM15 optics – 15,000 lumens
– 1 Modulo Pi STD-4 media server
– 1 Modulo Pi STD-1 media server
– 4 RCF speakers of 700W RMS
– 1 4G Modem + IP camera + computer with Modulo Player Remote for remote control