From October 16, 2021 to June 19, 2022, the Nantes history museum presents an exhibition on the theme of Slave Trade and on the colonial past of his city through an exhibition called " L'Abîme, Nantes in the Atlantic slave trade and colonial slavery, 1707-1830". Between the 17th century and the 19th century, more than 500,000 slaves boarded Nantes ships.
The directors of the museum wanted to show this dark part of French history thanks to unique collection pieces, allowing via this material reality to see in detail what this trade, this deportation and this dehumanization was.
The museum has chosen a exposure in part immersive, in which the digital must allow the visitor to better realize the reality lived by the captives locked up in these huge slave ships.
In one of the rooms, we had the task of immerse the visitor on board of The Seraphic Mary, vessel who took an active part in the Atlantic slave trade in the 18th century, with " Crossing" , a immersive video projection on the floor and on the walls, supported by a sound design very absorbing, which reconstitutes the Atlantic crossing and the deplorable living conditions on board these ships.
The projected images on the ground and on the two parallel walls are from two watercolors collections from Nantes history museum, on a soundtrack, produced by Martin Gracineau.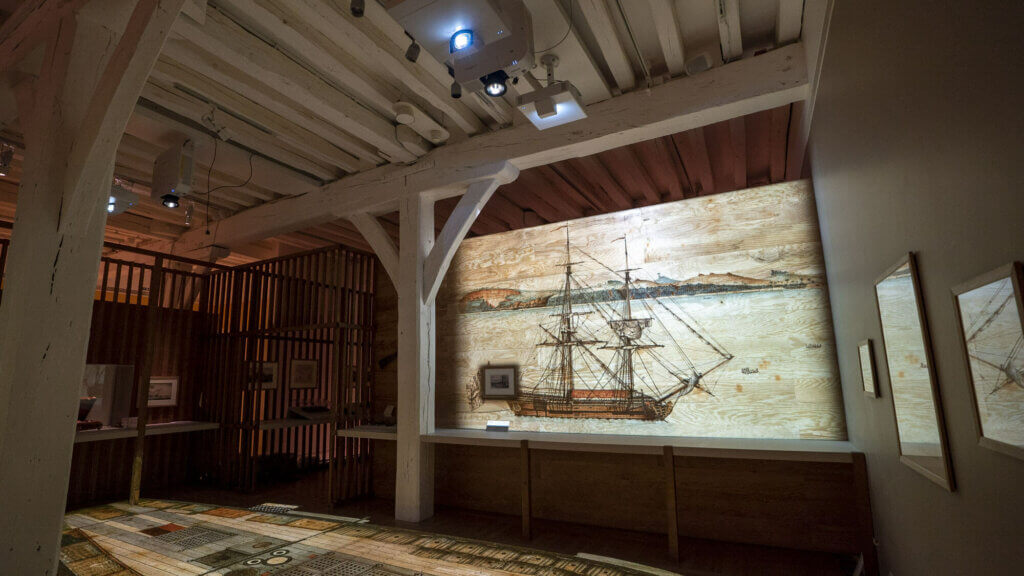 Material :
Technically :
The key word of the installation was the discretion, the perfect integration in the scenography, and the ban on to stare in the listed frame of the building. The materials had to be white, and fixed on a long wooden ladder positioned on the ceiling on the beams.

The floor is covered by a projection of the deck of the ship The Seraphic Mary, produced with 2x video projectors EPSON EB-L1050U and wide angle optics ELPLU03S.
The back wall is covered by a projection representing the steerage of the ship The Seraphic Mary, produced with 2x video projectors ultra wide angle EPSON EB-800F.
The rear wall is covered by a projection of a distant view of the ship The Seraphic Mary, realized by 1x video projectors ultra wide angle EPSON EB-800F.

The 5x projectors are connected to 5x media server Module Pi Nano set wired network. One of them serves as the main control (Master) and is connected to a multi-channel sound card for the spatialization sound in the room, as well as a system DMX / ArtNet in charge of managing thelight atmosphere of the room.
The system is fully synchronized to the PLC Crestron of the museum so that it can be switched on and off during exhibition times, and can be handled manually with a remote control StreamDeck if needed.
A system of 4G remote control was installed in order to guarantee rapid intervention times for the operations of control and of maintenance.
L'Abîme, Nantes in the Atlantic slave trade and colonial slavery, 1707-1830
To be found at Castle of the Dukes of Brittany of Nantes
From October 16, 2021 to June 19, 2022
More information and reservations: https://www.chateaunantes.fr/expositions/labime/